American Martial Arts Academy is a Tang Soo Do Dojang located in LaVale, Maryland. We seek to provide quality martial arts instruction with an emphasis on self defense at affordable prices. Kaulin Kamauf is the current owner and head instructor of AMAA. We primarily offer classes in Tang Soo Do Chung Do Kwan, a style founded in Korea in 1944 by Master Won Kuk Lee. This martial art is primarily a striking art; but does include throws, joint locks, chokes, and other grappling techniques.

Our academy is open to anyone regardless of rank or style. Anyone traveling in the local area who wants to participate in a class can simply show up and jump in.
We encourage students to cross train, as it produces more rounded martial artists and gives students new ways to interpret techniques.

Learn about the history of our academy on our History page and our style on the Lineage page.
Meet the rest of our instructors on the Instructor page.
Check out our schedule on the Calendar page and learn about all the classes we offer on their respective pages.
If you are interested and are considering taking classes, go to the Contact Us page or visit our Facebook page.
Powered by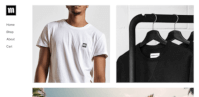 Create your own unique website with customizable templates.